I have had New Look 6729 (

OOP

) in my stash for a couple o
f years but for some reason felt intimidated by the pattern.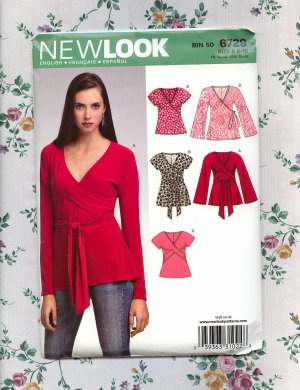 Why? I don't know because I was able to put it together pretty easily. I purchased the fabric from Fabric Warehouse about 3 or 4 years ago.
There was barely a yard of it, so I knew I had to be careful with how I cut the fabric. Anyway, I was in a rush to cut the fabric out because I wanted to wear it on Saturday and decided to cut and sew it on a Friday night before I ran out the door to go to the hair dresser to get my hair done. (I made this top in June by the way. Well, in my rush to cut out the fabric, I didn't check to see which way the stretch was and cut out the back. Of course to my horror I realized that I had cut the back out with the stretch going lengthwise. I freaked for about a minute and forged ahead, because there was no way I was throwing this fabric away. I liked the print too much. I cut the front piece out and made sure I had enough to cut it the correct way, sewed it up and left the arms and hem undone before leaving to get my hair done. When I got home I hemmed the sleeves and top then tried it on. In doing so I realized that the bottom of the top in the front was drooping in a weird way. I assumed that that was from me cutting the back out wrong.

I wish I had taken pictures to document my fudge up, but, of course I did not. (Mental note to self, start documenting everything. You never know when you may need this information again, or it might be helpful to someone else.) I put the top on Lola and messed with pinning in the sides a little, and it did the trick. I was able to get rid of the hanging droop in the front of the top.
Pattern Description
Pattern Sizing:
14, View C
Did it look like the photo/drawing on the pattern envelope once
you were done sewing with it?
I think so.
Were the instructions easy to follow?
Pretty much. I didn't have any problems with them.
What did you particularly like or dislike about the pattern?
I liked the style of the pattern.
Fabric Used:
Rayon/Lycra Knit purchased from Fabric Warehouse.
Pattern alterations or any design changes you made:
None.
Would you sew it again? Would you recommend it to others?
Yes and yes.
Conclusion:
This is a nice top to add to your wardrobe and would look good with slacks, a skirt jeans or a suit. It is a top that can be dressed up or down. Definitely a keeper.
P.S. I made updates to my last post on how to make the laundry detergent for those of you that are interested. (Serenity, Sheila, Karen).